Recommend Valda's obituary to your friends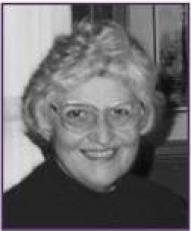 Obituary of Valda Mary Papalia
Valda "Val" Mary Papalia, 81, of Youngsville, died Sunday, July 4, 2010 at 8:23 p.m. at the John and Orpha Blair House in Warren.
She was born in Warren on May 26, 1929, the daughter of the late Ruggero and Amalia Agnolon Luvison.
Valda was a graduate of Youngsville High School, where she played basketball and edited the school newspaper. She studied piano with Lillian Swanson and then went to the Warren Conservatory of Music to further her studies with Dr. LeRoy B. Campbell. For her senior recital, Valda played Frederic Chopin's Polonaise in Aflat major and George Gershwin's Rhapsody in Blue. She was National Winner, Preparatory for Collegiate Class in the National Guild of Piano Teachers from 19451947 and a State Winner in 1944.
She was a communicant of St. Luke Catholic Church, where she was the organist for 40 years, taught piano and played for numerous weddings and funerals at churches in the area. Valda had an exceptional gift of music and often said, "Music is the soul of life."
She married the love of her life, John Samuel Papalia, on June 25, 1949 at St. Luke Church in Irvine. She was a devoted wife to John, daughter to her parents and mother to her three children.
Valda was a compassionate and generous woman, always eager to help and comfort others. She taught Catechism classes at St. Luke and was member of the Altar & Rosary Society. She volunteered to play piano and organ at the Warren State Hospital and the Rouse Home and was a Brownie Scout troop leader.
Valda was an avid cook and cookiebaker, always eager to feed her family and friends, as well as those less fortunate.
Survivors include her daughters, Dr. Amy (Rodney) Early, Williamsville, N.Y., and Joan (Paul) PapaliaEisert, Youngsville; a son, John (Janice) Papalia, Warren; seven grandchildren, Crista Brackley, Erie, Margaret Early, Williamsville, N.Y., Maria Papalia, Boston, Mass., John R. (Lindsay Papalia, Youngsville, Elizabeth, Andrew and Nicholas Papalia, Warren; two greatgranddaughters, Skylar Procknow, Williamsville, N.Y., and Aja Brackley, Erie; two brothers, Norge (Eva) Luvison, Sugar Grove and Claude (Meredythe "Nan") Luvison, Youngsville; along with nieces, nephews, former students and friends whom she loved dearly.
Valda was preceded in death by her husband, John, in 2008.
A Mass of Christian Burial will be celebrated at 11 a.m. on Wednesday in St. Luke Catholic Church. The Rev. John Neff, pastor, will be the celebrant. Burial will be in St. Joseph Cemetery. Friends will be received on Tuesday from 2 to 4 and 6 to 8 p.m. at the Donald E. Lewis Funeral Home, Inc., where a Christian Wake Service will be held at 7:30 p.m.
Valda loved preparing meals for all those in her life. The family asks that, in lieu of flowers, donations be made to the Youngsville Ministerium Food Pantry at the Evangelical United Methodist Church, 18 Second St., Youngsville, PA 16371; St Joseph Soup Kitchen, 600 Pennsylvania Ave. West, Warren, PA 16365; or any branch of the Salvation Army.
View condolences for Valda "Val" Mary Papalia.
To send flowers to the family of Valda Papalia, please visit Tribute Store