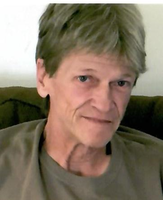 Mark Allen Woodin
Mark Allen Woodin—54 of Jamestown went home to be with his savior on October 11, 2018 at UPMC Hamot.
Mark was born May 12, 1964 in Bear Lake PA to Robert and Alice Woodin.
Mark was married to his wife Louise Morgan Woodin on November 18, 2015.
Mark worked various industrial jobs earlier in his life. Most recently he had driven a taxi for 10 years for a local company.
In his youth Mark loved the outdoors and would spend his free time hunting and fishing, a passion he carried into his adult life. Mark enjoyed spending time with his wife and infant son.
Mark is survived by his wife Louise Morgan Woodin, his infant son Rollin James Woodin, his son David Terrill of Union City PA, his Mother Alice Woodin of Bear Lake PA, his Brothers Robert Woodin Jr of Corry PA and David (Lynn Ann) Woodin of Corry PA, his Sister Lisa (Mike) Case of Panama NY, as well as many Aunts, Uncles,Cousins, nieces and nephews and great nieces and nephews.
Mark is preceded in death by his Father Robert K Woodin March 21, 2018 of Bear Lake PA .
Burial arrangements entrusted to Hubert Funeral Home and Cremation Services.
A Memorial service for friends and family to be held Friday October 19, 2018 at Jamestown Free Methodist Church 515 East 7th Street Jamestown NY 14701 at 3:00pm.
Send a condolence by visiting www.hubertfuneralhome.com