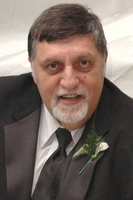 Frank J Smrekar
Frank J. Smrekar Jr, 70, passed away Thursday, April 5, 2018 at Millard Fillmore Suburban Hospital in Williamsville, NY after a very long illness.
Frank was born December 17, 1947 in Jamestown, NY, the son of Connie Vitanza Smrekar and the late Frank Smrekar Sr.
Frank was a graduate of Jamestown High School, Class of 1966. He attended Brewton Parker College, The University of West Georgia, and North Georgia College where he received his Masters in Education in 1978.
Frank remained in Georgia, where he lived until January 2018, when he returned to Jamestown, NY with his family. Frank enjoyed having fun, sports and spending time with his loved ones. He was known and loved by many, often referred to as "Big Frank", and a gentle giant.
Frank worked as a teacher and he coached at Clayton Elementary School in Cherokee County, GA. He also coached his son, Trey, in baseball and basketball at Holly Springs Elementary School and Canton Dizzy Dean baseball league.
Frank was employed as an Inspection Supervisor at Lockheed Martin in Marietta, GA. He retired in 2011.
Frank is preceded in death by his father, Frank Smrekar, Sr.
Frank is survived by his son, Frank J. Smrekar III "Trey" and daughter-in-law, Lisa Carlson Smrekar, his grandson, Ethan Smrekar, and granddaughter, Lola Smrekar, of Lakewood, NY; his mother, Connie Vitanza Smrekar of Jamestown, NY; sister Susan Dreher of Jamestown, NY and sister, Carlene Brown of Tampa, FL.
The memorial service will be held at Hubert Funeral Home and Cremation Services, 111 S. Main Street, Jamestown, NY on Saturday, April 14, 2018. Friends will be received from 1:00-4:00 pm. A second memorial service will take place in Georgia at a later date TBD.
Send a condolence by visiting www.hubertfuneralhome.com.