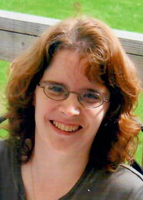 Tina A Greenawalt
Tina A Greenawalt—44 of Jamestown passed away April 5, 2018 at the Lutheran home. She was born July 1, 1973 to Ronald and Robin Giddy. Tina was the loving mother of Hunter and Haley.
Tina was baptized as Jehovah's Witnesses on September 6, 2015. She loved to talk about her bible-based hope and the resurrection in the future and her God Jehovah.
Tina is survived by her children Hunter and Haley, Father Ronald, sisters Tracy Giddy and Tanya Faith, brother Jason Giddy (Jackie), nieces and nephews, Nikole, Gracelyn, Robert, Remy, Jordan, Emery, Logan, and Zayden.
Tina is preceded in death by her mother Robin.
A Memorial service and celebration on life will be held Sunday April 8, 2018 at Kingdom Hall of Jehovah's Witnesses 180 Martin Road Jamestown NY at 3:30pm. For those who cannot attend the service a memorial will be held in June.
Arrangements entrusted to Hubert Funeral Home and Cremation Services
Send a condolence by visiting www.hubertfuneralhome.com