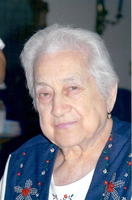 Bessie Calalesina
Bessie Calalesina- 96 of Jamestown passed away March 12, 2018 at Heritage Park. Bessie was born June 13, 1921 to Rosario and Mary Triscari. A lifelong Jamestown resident she graduated Jamestown High School class of 1940. Bessie married Anthony Calalesina on July 5, 1947. They were married for 62 years. Bessie retired in 1977 from Jamestown General Hospital Admissions office. Bessie was famous among family and friends for her cooking and baking, especially those cookies.
Bessie is survived by her daughters Mary (Joseph) Barbera of Syracuse NY, and Antoinette Rudy of Jamestown NY. Her Grandchildren, Michael (Shelly) Barbera of London England, Matt (Jenn) Rudy of Falconer NY, and Christopher Barbera of Liverpool NY. As well as many beloved nieces and nephews.
Bessie was preceded in death by her Husband Anthony (2009), and siblings Carmella Triscari, Sabastian Triscari, and Sam Triscari.
Visitation Will be Held Wednesday at Hubert Funeral Home and Cremation Services 111 South Main St. Jamestown NY from 4-7pm.
Funeral mass will be Thursday 10am at St. James RCC. Interment to follow at Holy Sepulchre Cemetery.
Donations may be made to Chautauqua Hospice and Palliative Care 20 W. Fairmount Ave Lakewood NY.
The Family of Bessie would like to extend Thanks to the hospice staff especially Denanna and the staff of Heritage Park for their compassionate care and support.
Send a Condolence by visiting www.hubertfuneralhome.com.