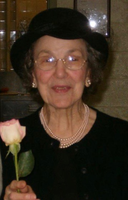 Catherine Colera
Catherine Colera, 100 of Jamestown passed away March 5th 2018 at Heritage Park health care center.
Catherine was born Nov. 17, 1917 to Joseph and Anna Marie D'Angelo. She was a graduate of Jamestown high school class of 1935, "The Orphan Class". Catherine married Michael Colera on Sept. 27, 1937.
Catherine worked as an inspector for Worsted Mills in Falconer and in the shipping department of Weber Knapp. In 1980, Catherine became a poll worker and worked elections until 1996. In 1964 she became a member of the Catholic Daughters of America. In 1997 she helped start the Renew Group to study the Bible. Catherine was also a member of the Knights of Columbus auxiliary, a girl scout leader, the Jamestown Boys and Girls club, the Marco Polo club auxiliary, the Red Cross, the Altar Rosary Society and a communicant of St. James Catholic Church raising her voice in joy as a member of the choir.
Catherine enjoyed working on her sewing machine creating her own fashions, traveling with her husband, and cooking especially her original Italian pizza, cookies, and best of all… her cream puffs. She will be remembered for always wearing a hat, looking well dressed and fashionable.
Catherine is survived by her son Michael Jr (Danielle), Daughter in law Peggy, grandchildren: Candy, Michael III, Robert, David and Marc; great grandchildren: Gianna, Elise, Michael IV, Dominic, Georgia and Robert Jr. She is also survived by 6 siblings, and 4 generations of countless nieces and nephews.
Catherine was preceded in death by her husband Michael and son Samuel. Visitation will be held Sunday at Hubert Funeral Home 111 South Main St. Jamestown from 3pm to 6pm. Funeral Mass will be Monday 10am at St. James RCC. followed by a celebration of her life in the Church hall.
Send a condolence by visiting www.hubertfuneralhome.com