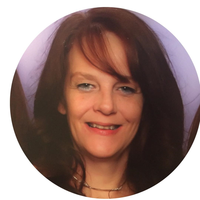 Teresa A. Oshlick
Teresa (Terry) A. Oshlick, 52, of Ashville NY passed away Wednesday Feb 21st, 2018. The loving mother of Mary Mowell and Jessica (Alex) Jacques. Grandmother to Skyler and Ryker Mowell, Jaiden and Aaralyn McKoy, Joseph and Zander Jacques. Daughter to Matthew and MaryLou Trusso. Sister to Matthew (Jill) Trusso, Lynn (Jody) Bennett, and Michael Trusso.
predeceased in Death by her Brother and Best Friend, Mark Trusso. Terry enjoyed taking her motorcycle out for an adventure any chance she could. Walking on the beach collecting seashells, sea glass, and other items she could find for crafting. She made countless wreaths, all of them unique. She loved spending time with her grandchildren who made her proud everyday. She loved to entertain and cook for her loved ones, especially on the holidays. She was a hardworking, strong, independent woman with a free and wild spirit. She was always welcoming to those who needed her, letting them into her home and heart. She always gave to others and thought of them before herself. She was passionate about her cats, one of which was a stray that stole her heart, and a lover of all animals. Terry's heart was truly one of a kind and she touched many lives. A Memorial In Celebration of her Last Ride into the Sunset will be on Wednesday, February 28th from 1-3 at Hurlbut Memorial Community United Methodist Church, 23 Pratt Ave. Chautauqua NY (Chautauqua Institution), 14722. Refreshments/Light lunch at 1:00followed by a short Memorial in Truesdale Hall.
Send a condolence by visiting www.hubertfuneralhome.com.