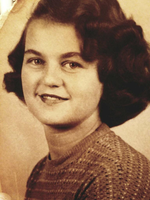 Betty J. Provenzano
Betty Jane (Lewis) Provenzano, of Jamestown, NY, passed away on February 21st, 2018 at Heritage Park Rehab and Skilled Nursing Facility.
She was born on March 24, 1936 in Akron, NY. Daughter of the late Harold G. and Mary J. E. (Koons) Lewis. In her early years she worked at Provenzo Lunch where she met her husband Angelo Provenzano. She enjoyed taking care of her home and entertaining family. She also enjoyed traveling with family.
Betty made an impression anywhere she went. She had a very colorful personality, and was quick with a smile. Betty was a caring person and made sure to tell you the truth. She could be strong willed but, you could always find some common ground with her. She will be sorely missed by all who knew her.
She is survived by a brother Joseph Lewis and a sister Myrtle Carlton. Beloved friends John Carney, Doris Shultz, and Kassandra Adams. In addition to her parents, she is preceded in death by her husband Angelo, brothers Albert, Harold and Gerald Lewis and a sister Mary Carr, and her beloved best friend Linda Carney.
Visitation will be held at Hubert Funeral Home on February 28th, 2018 from 5 to 8pm.
Send a condolence by visiting www.hubertfuneralhome.com