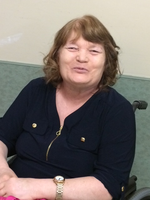 Beverly Long
Beverly "Bev," Long, 66, passed away Friday Feb. 2nd, 2018, in her home.
Beverly was born November 22nd, 1951 and has been a long time Jamestown/ Lakewood resident.
Bev enjoyed being around the people that she cared about the most. She experienced much joy spending her days at Senior Adult Day Habilitation at The Resource Center. There she participated in volunteer work, activities and crafts. Bev always knew how to lift the spirits of those around her; she was great at making her friends laugh. Bev especially enjoyed spending time with her close friends Michele Albaugh and Olivia Luzzi. Bev will mostly be remembered by her humor and joy that she shared with others.
Bev is survived by her friends, Michele Albaugh, Olivia Luzzi and all of the staff at The Resource Center. A memorial service will be held Saturday Feb. 17th, at her home, 880 Hunt Rd Lakewood NY. In lieu of flowers, memorials may be made to TRC Foundation, 92 Fairmount Ave., Jamestown NY, 14701.
Send a condolence by visiting www.hubertfuneralhome.com