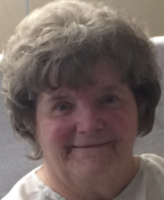 Evelyn Marie Johnson
Evelyn M. Johnson, 75, of Heritage Green, passed away Sunday, Jan. 21, 2018 in Roswell following a brief illness.
She was born Dec. 23, 1942 in Jamestown to Mark and Gertrude Pickard. She graduated from Bemus Point High School. She was employed at Rockman's grocery store. She also volunteered at WCA Hospital and was a secretary for the Christian Missionary Alliance Church and the Ellery Baptist Church.
She was a dedicated homemaker. She was a member of the Ellery Baptist Church and loved to sing in the choir. Some of her interest were crocheting, knitting, and socializing with friends and family.
Preceded in death by her parents, Mark and Gertrude Pickard; a brother, Wesley Pickard.
Surviving are three children: Debra (Mitch) Paterniti of Panama, David (Sandy) Franzen of Panama, Ricky (Alicia) Johnson of Randolph; seven grandchildren: Beth (Cody) Styers, Tony Paterniti, Brad Franzen all of Panama, Greg Franzen, Katie (Eddie) Moser all of Jamestown, Kirsten and Ashton Johnson of Randolph; two sisters: Ola Olson and Phyllis Starr both of Bemus Point and a brother, Elton Pickard of South Bend, Indiana.
A memorial service will be held on Thursday, Jan. 25th at 7:00 pm at Hubert Funeral Home and Cremation Services. Visitation will be from 6-8pm.
Memorial donations can be made to Family Life Ministries PO Box 506, Bath, NY 14810 or (http://www.fln.org/giving/memorial-giving/), Roswell Park Cancer Institute PO Box 631, Buffalo, NY 14240-9856 or Heritage Green Nursing Home 3023 Rt 430, Greenhurst, NY 14742.
Send condolence to the family by visiting www.hubertfuneralhome.com.