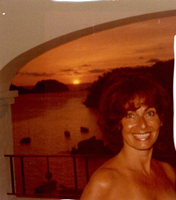 Marion Kolankiewicz
MARION KOLANKIEWICZ, 87, of Bemus Point passed away Friday January 5,2018 at her residence.
Born Aug. 4th 1930 in Berlin Germany. Survived WW2 with parents Herta and Willy Richter. Together they managed to live through countless bombings, street warfare, and the taking of the city by the Russian army. Hunger and danger always present until after the Berlin airlift.
Marion immigrated to Galveston, Texas in 1949 where her daughter Jeannette was born. She moved in 1955 to Kitchener, Ontario where she joined her parents. In 1957 the family settled in Hamburg NY.
She became a top model for the most prestigious fashion businesses in Buffalo. Her employers included AM&A's, Palanker Furs, Hens & Kelly, and weekly on channel 7's Dialing for Dollars.
Marion Blessed Peter Kolankiewicz by becoming his wife in 1971. They will have been together 47 years on February 19th. They operated the Tiffany Poodle Salon and MARIONS Imports in Jamestown NY.
Marion is survived by her Husband Peter, daughter Jeannette Gunn, Grandchildren Jason, and Amy Ziemba, great grandchildren Katelyn, Taylor, and Charles Ziemba.
Cremation is private. Donations may be made to the Chautauqua Humane Society
You may send condolence to the family by visiting www.hubertfuneralhome.com