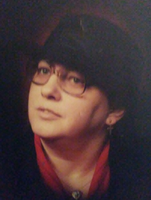 Gail S. Grekulak
Gail S. Grekulak, 63, of Jamestown, passed away Monday (December 18, 2017) at her residence.
She was born in Salamanca on June 29, 1954 the daughter of Josephine Winiarski Estus of Lakewood, NY and the late Edgar Estus.
She had been employed at Bush Industries.
Gail is survived by her children, Laurie and Angela Grekulak, grandchildren, Michael Sr., Paige, Nathaniel Sr., Alexis, Preston, and Brooke, and four great grandchildren. Gail is also survived by sisters Linda, Karen, and Debbie ; a brother, David, three step brothers: Rich, Bob and Jim; and adored by several nieces and nephews.
She was preceded in death by her brother Edger Estus.
The family will be present to receive friends on Wednesday from noon to 2p.m. in the Hubert Funeral Home and Cremation Services.
Burial will be in Villenova Cemetery.
You may send a condolence to the family by visiting www.hubertfuneralhome.com.