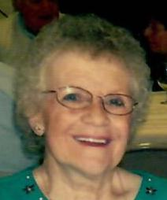 Mary Landy
Mary Wilson Landy, 76, of Jamestown, passed away Saturday (December 16, 2017) at UPMC Chautauqua WCA.
She was born in Jamestown on July 13, 1941 the daughter of Ephraim and Bernice Morrison Wilson.
She was the owner and operator with her husband of Landy Brothers for fifteen years, retiring in 1989.
She was also employed as a billing clerk for MRC and Keebler.
She was a communicant of Holy Apostles St. John Catholic Church.
Mary is survived by four children, Donald (Kim) Woodfield Jr., Kennedy, Edward (Vonda) Woodfield, Rochester, NY, Steven (Shirley) Landy, Sherrie Landy (Sam Bardo), Jamestown, eleven grandchildren, six great grandchildren.
She was preceded in death by her husband Anthony "Tony" Landy whom she married on December 16, 1976 in Kennedy and who died on March 8, 2008. and by two brothers, Edward Wilson and Jack Heelas and a sister, Joanne Heelas.
A funeral service will be held on Wednesday at 10:00 a.m. in the Hubert Funeral Home and Cremation Services. The Rev. Darrell G. Duffy, pastor of St. James Catholic Church, will officiate.
Inurnment will be in Holy Sepulchre Cemetery.
The family will be present to receive friends on Tuesday from 4 to 7 p.m.
You may send a condolence to the family by visiting www.hubertfuneral home.com.