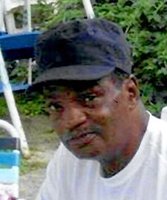 Lonnie J. Kinsey
Lonnie J. Kinsey, 64, of Jamestown, passed away Saturday (December 9, 2017) at UPMC Chautauqua WCA.
He was born in Newbern, NC on November 6, 1953 the son of Elijah and Ann Poe Kinsey.
He was a 1971 graduate of Dunkirk High school where he received a scholarship to West Point Academy to play football. He was an outstanding athlete.
He was a sports fan of football and especially loved the Red Raiders where his son (Zach Kinsey) played football and basketball. He attended every home game. He also loved sitting and listening to music, especially R&B and gospel.
He was employed at Carborundum and Cummins Engine and was a supervisor at Blair before his illness. He was a member of Emmanuel Baptist Church.
He was a kind man and a quiet soul. He loved his family and was friends to everyone.
He is survived by his wife, Phyllis Leeper Kinsey whom he married on her birthday, October 22, 1988, four children, Lonnie Jr, Buffalo, Zacchaeus Kinsey, Jamestown, Kanika and Michelle Kinsey, Buffalo, two step-children, Raymond and Camille Hodnett, Jamestown and Demetrius Goldsmith, Jamestown and whom he raised as a son, sixteen grandchildren, four brothers, Kenneth and Michael Kinsey, Newbern, NC, Allen and Jerome Kinsey Jamestown, six sisters, Lona Kinsey, Jamestown, Pat & JoAnne Kinsey and Selena Santiago, Dunkirk, Theresa Kinsey and Romona Murphy, Brooklyn, NY.
Besides his parents, he was preceded in death by a brother, Jeffrey McFadden and a daughter, Tracey L. Hooten.
A funeral service will be held Thursday at noon at Emmanuel Baptist Church, 53 West Twenty Third St.
The Rev. Sonya Hicks and the Rev. Chloe Smith will officiate.
Burial will be in Lake View Cemetery.
The family will be present to receive friends for one hour prior to the funeral service.
You may send a condolence to the family by visiting www.hubertfuneralhome.com.