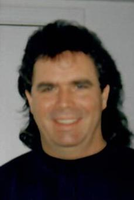 Jonathan B. Fardink
Jonathan B. Fardink, of 2204 Brooks Rd., Ashville, passed away Sunday (November 26, 2017.
He had fought a courageous battle for many years with genetic lung diseases.
He was born in Westfield on July 9, 1955 the son of the late Merle Fardink and Ruth Seeley Fardink.
Before his illness, Jon was Owner/Operator of Fardink Blacktopping for twenty five years. His favorite pastime was playing the bass guitar. He played in several bands, two of which were, "Logan's Creek Band" and "Dangerfield".
He believed that his greatest accomplishment in life, was his son Nicholas. He was very proud of him and when he was well, they spent a great deal of quality time together. In his younger years, he was an avid hunter and was an active member of the LLAMA Club of Ashville.
His illness became very debilitating throughout the last five years. He had two very special caretakers during that time. One was his tenant and good friend, Moe (Randy) Bush, who was always there for Jon and the other was his niece, Kim Mazzone.
Jon is survived by his son, Nicholas J. Fardink, Ashville, his former wife and friend, Tracy Fardink, a sister, Muriel Mazzone, a brother, Paul (Cheryl) Fardink.
He is also survived by many nieces, nephews, sister in laws, brother in laws and his mother in law.
Besides his parents, he was preceded in death by his grandparents, aunts, uncles and cousins.
A Memorial Service will be held on Wednesday at 7:00 p.m. at the Hubert Funeral Home and Cremation Services. Deacon Michael Lennon of St. James Catholic Church, will officiate.
The family will be present to receive friends on Wednesday from 5 to 7 p.m.
You may send a condolence to the family by visiting www.hubertfuneralhome.com.