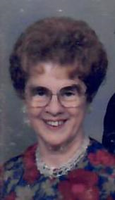 Mary C. Herzing
Mary Werneth Herzing, 89, of Greenhurst, passed away Thursday (August 24, 2017) at Heritage Green Rehab & Skilled Nursing.
She was born in St. Marys, PA on March 31, 1928 the daughter of the late August J. Sr. and Magdalena Hoffman Werneth.
She was employed as a waitress at the former Imperial Hotel in Celoron, Celoron Plywood and the Celoron Skating Rink. She was a member of Our of Victory Parish, Frewsburg and St Marys Catholic, St. Marys, PA.
She is survived by a daughter, Joann (Joseph) Morrison, Jamestown, three grandchildren, Michael Bentley and Lori (Brandon) Miller, Jamestown and Alice (Scott) Blair, Cherry Creek, NY., nine grandchildren and a great granddaughter., two sisters, Martha Pistner and Margaret Floravit, St. Marys, PA and a stepson, Joseph Morrison Jr., PA.
She was preceded in death by her husband, Paul L. Herzing whom she married on August 1995 in St. Marys, PA., a sister, Madaline Amancher and two brothers, August Jr. and Clarence Werneth.
A graveside service will be held Saturday, September 9, 2017 at 1:00 p.m. at St. Marys Catholic Cemetery, St. Marys, PA.
Memorials may be made to St. Marys Catholic Church, 337 Center St., St. Marys, Pa. 15857.
You may send a condolence to the family by visiting www.hubertfuneralhome.com.