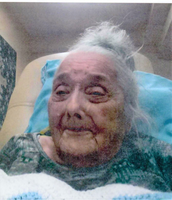 Mildred E. Horton
Mildred E Horton, age 94, formerly of East Randolph passed away Friday, August 25, 2017 at Heritage Green Rehab & Skilled Nursing. Muddy was born August 24, 1923 in Elko, NY. She is the daughter of Harry and Betsy (Pierce) Carnahan. She married Lawrence F. Horton in January of 1956 in Randolph, NY.
Muddy was an avid Cub's fan and enjoyed watching Jeopardy. She often spoke very fondly of all her neighbor's in East Randolph.
She is survived by her son, Harry M. Horton; daughter, Lois (John) Burns, five grandchildren: Jasmine Shriver, Dustin Horton, Chareese Bowles, Tonya Bowles and Dylan Vergith; ten great-grandchildren; and several nieces and nephews.
Muddy was predeceased by her Husband, Lawrence F. Horton, and her son, John F. Horton.
A memorial service will be held 1:00 pm on Saturday, September 2 at Healing Word Ministries, 1006 West Third Street, Jamestown, NY with Bishop Leecroft Clarke, Senior Pastor officiating.
Burial will be in East Randolph Cemetery.
In lieu of flowers, memorials may be made to Heritage Ministries, 4600 NY-60, Gerry, NY 14740.
The family would to sincerely thank the staff of Heritage Ministries for the love and care that they gave to their loved one.