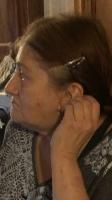 Jean Reedy
Jean A. Reedy, 63, of Jamestown, passed away at 2:26 a.m. Friday (June 16, 2017) in UPMC Chautauqua WCA.
She was born in Tarentum, Pa. on December 26, 1953 the daughter of Lois Clever Reedy, Jamestown and the late Robert E. Reedy.
Jean had been employed as a cashier at CVS and security work at Bush Industries, retiring in 2007.
She is survived by her children, Dennis Reedy, Jamestown, Sonny Reedy, New Kensington, PA, Jean Hammond, Belinda Nervoss and Halana Reedy, Pittsburgh, PA., Isua Reedy, McKees Rocks, PA., a brother, thirty three grandchildren, several great grandchildren.
The family will be present to receive friends on Monday evening from 6 to 8 p.m. in the Hubert Funeral Home and Cremation Services.
Memorials may be made to the Kidney Connection, 748 Harding Ave., Jamestown, NY 14701.
You may send a condolence to the family by visiting www.hubertfuneralhome.com.