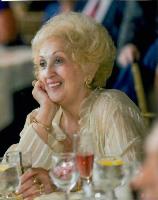 Mary R. Racitano
Mary Elizabeth Reale Racitano, 78, of Jamestown, NY, was gently lifted into the loving arms of her Heavenly Father on Saturday, June 10, 2017, with her loving family by her side.
Mary was born to Carl and Sarah Reale on October 18, 1938, a special birthday shared with her beloved younger brother, Paul A. Reale. Looking more lovely than Elizabeth Taylor, she married the late Vincent A. Racitano, 60 years ago, May 11, 1957, at St. James Catholic Church, Jamestown, NY. Mary attended St. James Parochial School and graduated in 1956 from Jamestown High School. As a graduate, she joined the United States Air Force Ground Observer Corps as a volunteer for the Korean War Efforts, and was very proud to serve our country in this capacity.
Mary worked for the Jamestown Welfare Department as stenographer and switchboard operator. For 40 years she was Executive Vice-President, Secretary, Treasurer and Office Manager for V & N Construction Co., Inc., their family owned business. She also was office manager for the Upholstery Center of Jamestown, head chef at Primo's Italian Restaurant and retired from the Allegheny Highlands Council Boy Scouts of America as Accounting Clerk. Her most treasured position was caring for her precious grandchildren, Paul and Rochelle.
Mary was a devout parishioner and supporter of religious education. She founded the first professional preschool program for St. James Catholic Church, serving as a teacher, in addition to training other teachers. She was an active PTA officer and promoted several successful fund-raisers. Mary cherished her catholic education, and established the St. James Parochial School Bingo kitchen, grateful that this enabled the school to remain open for several additional years, but was truly devastated by its closing.
For 18 years, she taught religious education classes for Grades 3- 11 at St. James, St. John's and St. Peter and Paul's Catholic Churches. The following 13 years she headed the St. Joseph's Table, supervising all aspects of the event, in addition to baking delicious traditional treats and opening the work program to the entire congregation. She shared her talents for leadership and cooking for the good of both St. James and St. John's churches. In 1975, Monsignor Antoine Attea appointed Mary as a Eucharistic Minister, serving for several years. She was later appointed by the Reverend Louis Della Neve to the St. James School and CCD Board and the Parish Council.
Inspired by the love of music, she spent her childhood listening to the opera with her father. Music and dance permeated every aspect of her life; she truly was her father's daughter. She cherished serving as a member of the church choir, often as a song leader during masses. Mary had a lovely soprano voice and was a soloist for public and private events alike. Mary and Vincent loved to dance and to see them was truly a sight to behold. Together they took over as leaders of the Italian Quadriglia Dancers, after the passing of Mary's father, Carl J. Reale, the group's original founder. In the spirit of sharing Italian heritage and ensuring its continuation with younger generations, Mary served as a mentor for the newly-formed St. James Italian Dancers. She felt honored to teach them traditional dances, passed down from her father, originating from Tortorci, Italy, his hometown.
Over the course of 30 years, Mary and Vince taught Italian dancing at private seminars throughout the US and Canada. Mary was a member of the National Italian American Foundation, a nonprofit educational foundation that promotes Italian American culture and heritage and serves as the voice for Italian Americans in Washington, D.C. working in conjunction with the Italian Embassy, Italian American Congressional Delegation and the White House. In 1997, Mary and Vincent were invited to attend the first Italian American summit in Washington, D.C. where they were entertained by the Ambassador to Italy, Boris Biancheri Chiappori. Prideful of her Italian heritage, Mary established a club in high school, " A Little Bit of Italy", which united her Italian American girlfriends and provided an opportunity for them to share their heritage in a time when their ethnicity was not always recognized; their friendships have continued to this day. In 1998, she organized a dinner dance honoring Italian Immigrants of Jamestown, NY, gathering artifacts and documenting the history of its many participants in her book, entitled, "Jamestown's Italian Community", and contributed to the Fenton Historical Museum's collection of Italian Heritage.
Blessed with boundless energy, a strong work ethic, and a flair for creativity, Mary combined these gifts to help make this world a better place. Cherishing her work with children, she volunteered for the Jamestown School District and Boys and Girls Club, teaching children Italian and Irish folk dances and songs, which they performed at community events. She volunteered at local hospitals, oversaw the Lions Club annual Christmas dinner, and organized two clothing drives for the earthquake victims in Italy and India, working closely with Mr. Lucca of the Sons of Italy in Buffalo, NY, and with Jamestown's Mayor Teresi. Mary was grateful for all of God's blessing and considered it her duty to give to those less fortunate.
Mary wrote and performed musical shows for local nursing homes over the years. Being a respectful woman, she knew that many of the people that she entertained still possessed a zest for life, and were deserving of respect and honor. She often spoke of the words of wisdom, given to her, by the many lives she touched, and the irony of volunteerism, in that she received much more than what she gave.
Mary's memberships and offices held were numerous and always embellished with her personal flair by making the most mundane meetings enjoyable through entertainment, raffles, and pure fun. She served as President of Jamestown Sister City Committee for Jakobstad, Finland and Cantu, Italy, as well the City of Jamestown representative for Kosovo, and the Czechoslovakian student exchange programs. For several years she chaired fund raising for Babe Ruth baseball and the Jamestown Parks and Recreation City Picnic. Mary and Vincent, also prepared private dinners as fund raisers for the Reg Lenna Theatre and the Italian Art Museum of Rome, NY. As a member of Little Theatre, she celebrated her 40th birthday by playing the part of Frau Schmidt in the Sound of Music, a memorable role that she cherished. Mary was President of the St. James Altar-Rosary Society and Falconer Senior Citizens. She was creator of the Event, "Bring It to the Table with Mary " a community food venture held at St. James Church, celebrating the joy of food and family. Mary was often called " Miss Jamestown" by many, for her love and devotion to her heritage, family, church and community.
Her personal life experiences fueled her drive to advocate for children's rights and give all children worth, refuge and…a voice. One of Mary's most honorable achievements was having the song that she wrote in memory of Lisa Steinberg, the victim of a nationally highly publicized child abuse case involving her adoptive parents, Joel Steinberg and Hedda Nausbaum, published and recorded in honor of the child. The song is entitled, "My Name is Lisa," and can be found on Rainbow Records, Hollywood, CA. This was an empowering act, which she felt brought a voice to Lisa Steinberg, a helpless victim of child abuse. While undergoing chemotherapy, Mary enlisted her time and remaining energy toward the pursuit of becoming a CASA Volunteer, which requires rigorous training and careful selection of prospective candidates, promoting the welfare of children involving legal issues.
Mary was a loving daughter, mother, grandmother, wife, sister, aunt, friend and parishioner. She lived life to the fullest and enjoyed every venture she undertook, always open to personal growth, ever learning and experiencing the wonderment of life's possibilities. Her love and devotion for her family was immeasurable and she spent her lifetime seeking to provide a better life for her children, nurturing them with the most tender of care to ensure that they would thrive and succeed at whatever they pursued.
She is survived by her sons, Vincent C. Racitano, Frank J. Racitano, and two daughters, Mary Kay (Jerome) Moss, Rose Ann (Thomas) Flick, grandchildren Rochelle and Paul Flick, Jeremy Moss, Scott and Ryan Flick, Daniel Racitano, Emily Skovira, and Kathryn Racitano, Tom Pintagro godson, as well as great grandchildren, Mataio Flick, and Jeriah Moss, brother-in-laws Robert Strausser II, Thomas Pintagro, as well as several nieces and nephews.
She was predeceased by her brother Paul A. Reale in 1967, father Carl J. Reale in 1984, mother Sarah Reale and sister Carmella Antonuccio in 2002, sister Genevieve Calanni in 2010 and niece Mary Liz Calanni in 2016.
A Mass of Christian burial will be celebrated at 10:00am Wednesday, at St. James Catholic Church. The Rev. John L. Kuhlmann will be the celebrant. Burial will be in the St. James Holy Sepulchre Cemetery. The family will receive friends on Tuesday from 4-7pm at the Hubert Funeral Home, where a Christian Wake Service will be held at 3:45pm.
Memorials may be made to St. Jude Children's Hospital, PO Box 1000, Dept. 142, Memphis, TN 38101-9908. You may send condolences to the family by visiting www.hubertfuneralhome.com.