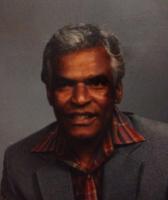 Alejo Drohin
Alejo Drohin, age 82, of Jamestown, NY. passed away on Thursday, May 25, 2017 at UPMC Chautauqua WCA. Alejo was born July 17, 1934 in Arroyo, Puerto Rico to parents Rafael and Angela (Cora) Drohin.
A resident of Jamestown, NY. Since 1982, He served God and our Community as a Hispanic Evangelic Minister (with Church of God in New York, Inc.), and was a pillar of the hispanic evangelic community as a composer of hymns, and as an artist. He was also employed by the City of Jamestown in the Parks and Recreation Department.
Alejo is survived by his brother Bienvenido Drohin of Buffalo, NY, his sister Josefina Drohin of Guayama, PR, three daughters: Margarita Drohin of Jamestown, NY, Damaris Drohin of WI, Bethsaida Drohin of NC, and three sons: Alexis Drohin of WI, Ethan Drohin of NC, and Michael Drohin of Jamestown, NY. His Grandchildren are Margaret holy, Abraham Kamara, Rolando Torres, Wilfredo Torres, Jonathan Torres, Alfredo Torres, and five others. He was also blessed with fifteen great-grandchildren.
Besides his parents Alejo was predeceased by his first daughter, Alma Drohin.
His family will be receiving friends from 11:00 a.m. – 1:00 p.m. on Thursday, June 1st at the New Creation Assembly of God Church, 116 South Main St., Jamestown, NY. After which there will be a funeral service with Rev. Daniel Drohin officiating.
The Burial will be in Lake View Cemetery the following day at 1:00 p.m.
Condolences may be sent to the family by visiting www.hubertfuneralhome.com