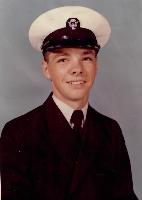 Richard Smith
Richard "Smitty" Smith, 57 of Jamestown, passed away Sunday (May 28, 2017) at Heritage Park Rehab & Skilled Nursing.
He was born in Warren, Pa. on May 23, 1960 the son of Kenneth and Donna Weilacher Smith, Jamestown.
He had been employed at Valeo, Matco Tool and Phoenix Metal. He served in the U.S. Navy.
Richard enjoyed spending time with his family and dog "Reeses". He was an avid NASCAR fan and sportsman.
Besides his parents, he is survived by three sisters, Kandi Davis and Tammi Smith, Jamestown and Kimberly Smith, Warren, Pa. and a brother, Kenneth "Barbara" Smith, Ft. Mill, SC., his beloved canine companion, Reeses and several nieces and nephews.
He was preceded in death by his grandmother, Unice Weilacher.
There will be no visitation or funeral service.
The Hubert Funeral Home and Cremation Services is in charge of arrangements.
You may send a condolence to the family by visiting www.hubertfuneral home.com.