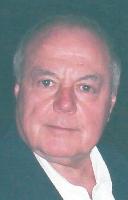 Joseph Sebastiano
Joseph Sebastiano, 79, of Jamestown, passed away Saturday (May 27, 2017) at UPMC Hamot, Erie, Pa.
He was born in Buffalo, NY on October 12, 1937 the son of Pasquale and Jenny DiCillo Sebastiano.
Joe was employed as a machinist in the tool & die trade having worked for thirty four years at Reliance Mold & Die Corporation, retiring in 2000.
He served in the US Navy from 1955 to 1963. He was a communicant of St. James Catholic Church.
Joe was a former member of the Knights of Columbus, VFW and the Moose.
He is survived by his wife, Joan Bellandi Sebastiano whom he married on September 2, 1961 in St. John Catholic Church, two sons, Christopher (Tammy) Sebastiano, Warren, Pa. and Anthony (Kimberly) Sebastiano, Martinsburg, West Virginia., a sister, Anna Marie Boccio, Getzsville, NY. Four nieces and a nephew also survive.
He was preceded in death by a brother, Michael Sebastiano.
A private family service will be held at the Hubert Funeral Home and Cremation Services. The Rev. Darrell G. Duffy, pastor of St. James Catholic Church, will officiate.
Visitation will not be observed.
You may send a condolence to the family by visiting www.hubertfuneralhome.com.