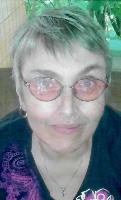 Melody A. Kliaber
Melody A. Kliaber, 65, of Jamestown, began her journey home after a valiant battle with cancer on Thursday (May 25, 2017) at her residence.
She was born in Jamestown on March 10, 1952 the daughter of the late M. William and Rose Mary Merchant Chrispell.
She was a JHS graduate of 1970 and a graduate of JCC in 1979 with a degree in accounting.
Melody was employed as a cashier at Bells, Quality Markets and Tops for over twenty five years.
She served her community lovingly and with kindness.
She is survived by her father, Rocco "Rocky" Miano, a son William (Lisa) Weaver, two daughters, Kelly Surrena and Amanda (Andrea) Weaver, nine grandchildren, Kymberli Bogardus, William Dorman III, Jacob Surrena-Dahlin, Joshua, Lilly and Max Varacruz, Jaxson Weaver, Kaiden Morse and Novah Leigh Weaver, four great grandchildren,Tavian, Dorman, Izabella Rose, Rocklyn Jo and Jianna and a close friend, Emma Brown all of Jamestown.
She was preceded in death by a son, Donald Stahl and her uncle, Anthony "Tony" Merchant.
A funeral service will be held Tuesday at 8:00 p.m. in the Hubert Funeral Home and Cremation Services.
The Rev. Darrell G. Duffy, pastor of St. James Catholic Church, will officiate.
The family will be present to receive friends from 2 to 4 and 6 until the time of the service on Sunday.
You may send a condolence to the family by visiting www.hubertfuneal home.com.