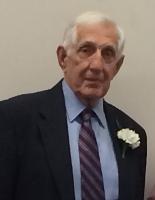 Angelo J. Valvo
Angelo J. Valvo, 91, of Jamestown, died Sunday, May 14, 2017.
He was born on March 18, 1926 in Jamestown the son of Joseph and Antoinette DiBella Valvo.
Ang served in the US Navy from 1944 to 1946 aboard the aircraft carrier USS Bennington. He earned the Asiatic Pacific Medal, American Theatre Medal and the Victory Medal.
Upon returning from his tour of duty, he was employed as a wood carver for Mason's Carvings for over forty years, retiring in 1994. Upon retirement, he was employed part time for Ethan Allen.
He was a communicant of St. James Catholic Church, a former member of the VFW and Elks.
Ang was an avid bowler, having bowled a 300 game and was a member of the Jamestown Area Bowling Council Hall of Fame. He also enjoyed golfing.
He is survived by three daughters, JoAnn (Richard) Farrell, Jamestown, Judy Barone, Erie Pa. and Jackie (Greg) Molisani, Lockport, N.Y., five grandchildren, Anthony C. (Megan) Barone II, Jamestown, Jennifer (Tim) Witt, Oakville, Ontario, Canada, Nathaniel L. (Megan) Barone III, Williamsville, N.Y., Michael G. Molisani and Lauren E. Molisani, Boston, Mass., four great grandchildren, Nathaniel L. Barone IV, Anthony C. Barone III and Lilianna G. Barone, Jamestown, Olivia E. Witt, Oakville, Ontario, Canada, a sister, Angeline Ricotta, Falconer.
He was preceded in death by his wife, Lorraine LaMarco Valvo whom he married on Nov. 20, 1948 in St. James Catholic Church and who died on Feb. 24, 2014, three brothers, Sam, Russ & Bill Valvo and two sisters, Lena Pilato and Rose Valvo.
A private family graveside service will be held at Holy Sepulchre Cemetery. The Rev. Darrell G. Duffy, pastor of St. James Catholic Church, will officiate.
Visitation will not be observed.
The Hubert Funeral Home and Cremation Services is in charge of arrangements.
You may send a condolence to the family by visiting www.hubertfuneralhome.com.