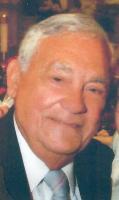 Sam Vincent Brigiotta
Sam Vincent Brigiotta, 92, of Jamestown, passed away at 3:00 a.m. Monday (May 8, 2017) at his residence.
He was born in Jamestown on April 12, 1925 the son of Frank and Sarah Raffa Brigiotta.
Sam served with the US Navy from 1943 to 1946. He served as a Yeoman Third Class aboard the USS General John Pope. Upon being discharged, he began working at Burns Case Goods for ten years. He then worked at Union National and retired from American Sterilizer. Upon his retirement, he worked part time at Brigiotta's Greenhouse.
His memberships include the Lakewood Rod & Gun Club, Moose Lodge #1681 and Jackson Valley Golf Club.
He enjoyed golfing and was one of the original foursomes that played in the inaugural Italian American Charity Golf Tournament, of which he played for many years. He was an avid New York Yankees and Miami Dolphin fan. He enjoyed watching his grandchildren play sports, bowling and tending to his vegetable garden
Sam is survived by his wife of seventy years, Ann DiDomenico Brigiotta, whom he married on November 30, 1946 in St. James Catholic Church, a son, Frank Brigiotta, Jamestown, two daughters, Sally Matey, Jamestown and Leah (Dale) Robinson, Attica, NY., eleven grandchildren, Frank, Robin, Vincent and Steven Brigiotta, Dylan Constantine, Denise (Chris) Pappalardo, Daniel Matey, all of Jamestown, Gregory (Wendy) Robinson, Attica, NY, Jonathan (Tasha) Robinson, Charlotte, NC, Katie Robinson, San Diego, CA and Casey Brigiotta, Tampa, FL., eight great grandchildren, a sister, Frances (Sam) Greco, Jamestown and a sister in law, Leah Mooney, Sacramento, CA.
He was preceded in death by his son, Sam Brigiotta Jr., a brother, Anthony Brigiotta and two sisters, Mary Pizzo and Sally Sanfilippo.
A Mass of Christian Burial will be celebrated at 10:00 a.m. Thursday at St. James Catholic Church. The Rev. Darrell G. Duffy, pastor, will be the celebrant.
Inurnment will be in Holy Cross Cemetery.
The family will be present to receive friends on Wednesday from 3 to 7 p.m. in the Hubert Funeral Home and Cremation Services where a Christian Wake Service will be held at 6:45 p.m.
You may send a condolence to the family by visiting www.hubertfuneralhome.com.